Mad City Coffee offers a wide variety of specialty drinks and tasty food. Our full selection of soups, salads and sandwiches are served fresh throughout the day.
All espresso drinks can be served decaf, skim, or iced.
Brewed Coffee
Choose between five different selections of the day.
Hot Tea
We offer a wide variety of premium loose leaf teas, and Two Leaves & a Bud tea sachets.
Espresso
Our special blend of various roast and origins. Priced per shot.
Cafe Americano
Brewed espresso and hot water.
Cappuccino
Equal parts espresso, steamed and frothed milk.
Cafe Latte
Espresso with steamed milk.
with one flavor
with two flavors
Cafe Breve
Latte made with cream instead of milk
Cafe Au Lait
Half coffee and half steamed milk.
Oregon Chai
A blend of black tea, vanilla, honey, and spices, steamed with milk or iced at your request.
Ghirardelli Premium Cocoa
with mint flavor
Happy Frappe
Espresso, yogurt base mix, coffee syrup, and a flavor of your choice, blended. Topped with whipped cream if you choose!
Smoothie
A blend of nonfat yogurt and fruit puree. We offer mango, strawberry, raspberry, and banana.
Powerhouse
Garlic hummus, avocado, lettuce, tomato, red onion, cucumbers, and Swiss cheese on grain bread. Optional to add turkey.
Chicken Salad
Select white meat chicken blended with spices and mayonnaise.
Egg Salad
Diced hard-boiled eggs delicately blended with special seasonings and mayonnaise.
Shrimp Salad
Tender shrimp delicately blended with mayonnaise and a touch of old bay.
Tuna Salad
Chunky style tuna with celery and mayonnaise.
Turkey
Oven roasted smoked turkey with lettuce, tomato, and Swiss cheese.
Ham
Thinly sliced and stacked high with lettuce, tomato, and American cheese.
Club
Triple-decker with bacon, ham, turkey, lettuce, tomato, red onion and Swiss cheese.
BLT
The classic: bacon, lettuce, and tomato.
Buffalo Chicken Wrap
Buffalo chicken with horseradish cheddar, bacon, roasted red peppers, lettuce, tomatoes, onions, and ranch dressing.
Turkey Bacon Wrap
Turkey, bacon, havarti cheese, roasted red peppers, lettuce, tomatoes, onions, and balsamic vinaigrette.
Garden Veggie Wrap
Garlic hummus, avocado, lettuce, tomato, red onion, cucumbers, and Swiss cheese.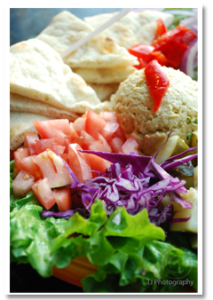 Garden Salad
Iceberg and green leaf lettuce with cucumbers, tomatoes, onions, carrots, and red cabbage.
Chef Salad
A fresh garden salad with sliced turkey, ham, American and Swiss cheeses.
Chicken Caesar Salad
Garden salad topped with Italian seasoned chicken breast.
Salad Platters
Served on a bed of lettuce with diced tomatoes, cucumbers, and onions. Crackers on the side. Choose from Chicken, Egg, Shrimp, or Tuna.
Hummus Platter
Garlic hummus, avocado, romaine lettuce, fresh tomato slices, alfalfa sprouts, onions, and cucumbers served with pita bread.
Cup of Soup
Soup of the day, served with bread or crackers.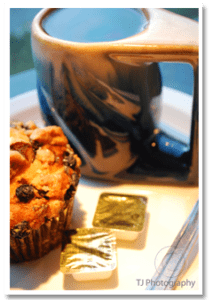 Fruit Salad
A mix of your favorite melons with red grapes and strawberries
Freshly Baked Cookies
Chocolate chip, Oatmeal Raisin, and Sugar Cookie
Black and White Cookies
Vegan Cookies
Heart Thrive Bars
Taos Mountain Energy Bars (gluten-free)
Biscotti
Pistachio, Almond, Hazelnut, White Chocolate Orange, and more
Ruggalah
Muffins, Pastries and Danishes
Selections change daily
Juices & Smoothies
We offer a wide selection of juices and smoothies to compliment your baked goods selections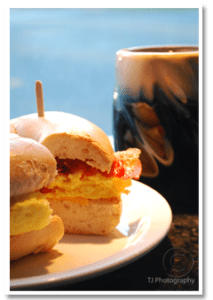 Bagels
Plain, wheat, cinnamon raisin, sesame, or everything. Our toppings include butter, jelly, peanut butter, and cream cheese in light, regular, or chive & onion.
Breakfast Sandwiches
Egg and cheese on toast, a bagel, croissant, or english muffin. You can also add ham, sausage, or bacon.
Muffins and Danishes
Our great selection changes daily.
Pastries
We serve your everyday favorites.